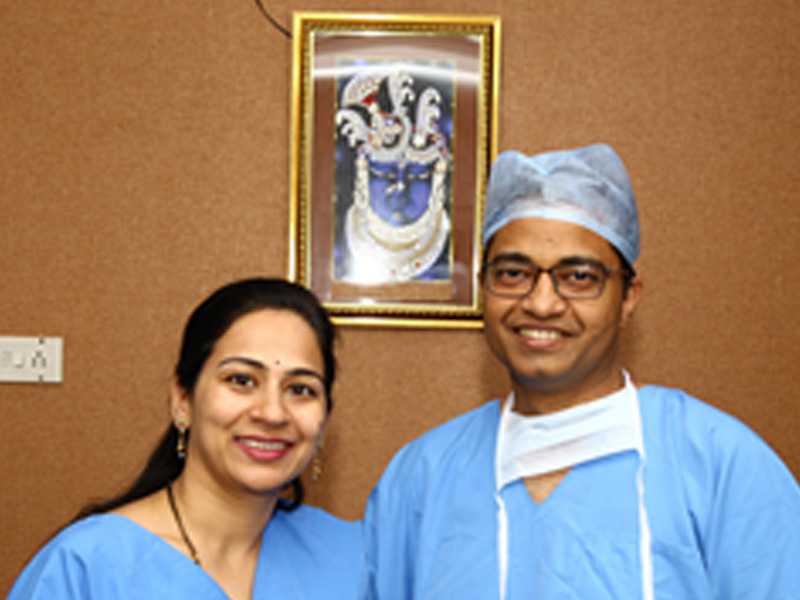 • Value for money, individual attention to the patient, clear communication, compassion support of warm professional team,, and providing the best evidence based medical care are the hallmark of services at the center.
• The centre has large waiting spaces, Power Backup, Drinking water facilities, 3 wash rooms for patients and attendants and a Rest room with cots. There is helpful and dedicated staff and housekeeping to make your visit to the centre as comfortable as possible.
• Suprabhat health care centre offers comprehensive consultation to care for the women's total health including general care, pregnancy, gynecological problems ,reproductive health issues .
Eye Care
• Dr Prashant Bhartiya directs the eye care services at Suprabhat Healthcare. He is trained from All India Institute of Medical Sciences and has the highest regard for quality in all aspects of Eye Care. The centre has two fully equipped eye consultation chambers for quick eye examination.
• A comprehensive assessment of the patient is done and the best possible advice is provided to the patient regarding all aspects of Eye care. The Operating theatre for eye surgeries is equipped for microscopic surgeries with facilities for Microincision cataract surgery and most advanced Corneal Transplant procedures.
• The Eye Care Centre is registered with the Chief Medical Health Officer of the State Government and is registered under the Transplantation of Human Organs Act as a Corneal Transplant Centre. All forms of Corneal Transplants especially lamellar keratoplasty like DSEK and DALK, along with other corneal surgeries like Amniotic membrane grafting, corneal Crosslinking (C3R) are performed at this Corneal Transplant Centre.
• This is the only centre in Central India which provides dedicated corneal Microbiology services by the ophthalmologist for patients with dangerous corneal infections, allowing for instantaneous or early assessment of infective organisms. This facility gives on the spot diagnosis and prompt targeted treatment avoiding unnecessary empirical long drawn treatments providing best possible results.
Women Care
• Dr Hansali Neema Bhartiya directs the women care services at Suprabhat Healthcare. A topper throughout her carrier, she is a obstetrician and gynecologist known for providing best evidence based care for health issues faced by women regarding infertility, pregnancy care and menopausal fitness .
• Dr Hansali has been providing comprehensive women's health services by implementing the most advanced, state-of- the-art technology and treatment options, including Colposcopy for cancer screening and prevention.
• Guided by her updated academics, Dr Hansali treats women through all phases of life from teen ages to infertility care, pregnancy, delivery, post delivery fitness, family planning services ,to menopause and post menopausal issues in later ages and cherishes the continuity of care with special one-on- one relationship between patient and doctor.
• Here the treatment has holistic approach towards women where along with medical issue, psychological, social, life style aspects all are taken care of.
• The center regularly conducts pregnancy classes for the pregnant couples and family members to provide all updates about the pregnancy and post pregnancy care, sorting out the queries and myths in the mind.
• Dr Hansali provides customized and highest standard of treatment to individual patient believing that the best health care emerges from a deep understanding of the interaction between a healthy body, the disease process and the influence of the psychosocial factors over the pathology.